Violation of FMLA Rights
Are you wondering if your employer committed a violation of FMLA rights? Watch this video to learn important information about labor laws in California.
Question:
What actions are considered unlawful under FMLA in California?
Answer:
Last week I was in a deposition of a client that we were representing and the issue came up as to what the employer's obligation was under the the Family Medical Leave Act and, in California's version, the California Family Rights Act. In this situation, the employee unfortunately had a medical condition that prevented the employee from being at work for ten weeks. They had a medical operation and underlying medical treatment that prevented them from doing any work for a ten-week period. After that ten week period, they had follow-up visits. The follow-up visits happened every Friday, but, as a result of the treatment, that employee couldn't work for a day or two after the follow up treatment. The employee typically worked Monday through Friday, so they were seeking leave under FMLA every Friday so they could go seek follow up treatment for a ten-week period. The Family Medical Leave Act and the California Family Rights Act are pretty similar. They provide for 12 weeks of leave per year, either on a continuous basis for ten weeks or on an intermittent basis, or a combination. In this circumstance, they had family medical leave or CFRA leave for a ten-week period to be followed up by intermittent leave, so every Friday they would take off for leave. The employer actually gave this employee the ten weeks off, but when she said she needed time off every Friday to go seek treatment, the employer said no and they terminated her. We spent a lot of time just establishing that, at the time they made that decision, she still actually had two weeks of FMLA leave available, basically ten days. Under FMLA and CFRA, you can take that FMLA leave on an intermittent basis, every Friday, to go seek treatment, or three times a week if you needed that treatment. Under the FMLA and the CFRA, you're entitled to that leave. You're also entitled to a situation not to be retaliated against for taking that leave or interfering with your ability to take that leave. Even when all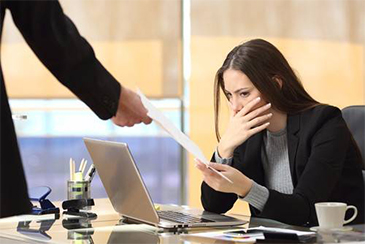 your leave is taken under the CFRA and the FMLA of 12 weeks, please understand you still might have protection under California's Fair Employment and Housing Act as a form of reasonable accommodation. Even if all your treatment isn't done within that 12 weeks and you still need a little bit more time to go get better, unless the employer can show that it'd be an undue burden to keep that position available to you or not terminate you, you have leave available to you as a form of reasonable accommodation beyond the 12 weeks. Out of all the areas of law that we do, calculating how much leave an employee is entitled to, as to whether or not it's an undue burden to keep the position available, is one of the hardest areas of the law that we practice. If you have questions as to what your entitlement is at your current employer, or if you're no longer working for a company because you took FMLA leave, or the employer told you that you didn't have any more leave and they had to terminate you, whatever the case might be as it relates to your disability, if you have questions, feel free to give us a call. I'm happy to answer any questions that you may have.
---
Are you or a loved one in the process of filing an employment claim in California and have concerns about a violation of FMLA Rights? Contact the experienced California employment law attorneys at the Myers Law Group today for a free consultation and case evaluation. We can help get your life back on track.
Like Us on
Facebook